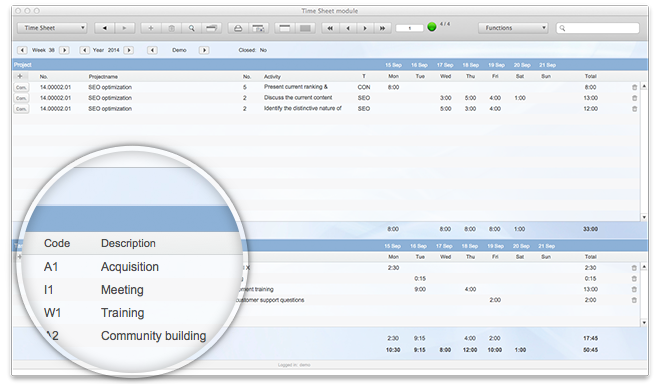 Daily timesheet template
Keep track of the workload of your company
In today's competitive markets, every little bit counts. A minute wasted equates to less money in the bank. Sluggish payroll and unmonitored absentees can set your business ten steps behind the other guys. Without being able to keep track of your employees endeavours, your company runs the risk of losing valuable funds and resources to inefficiency.

That's where Azor's daily timesheet template, which forms part of our timesheet software, comes in handy. The software, compatible with Mac, Windows & iPad systems, allows you to oversee, monitor and control how and when tasks are carried out, ensuring maximum proficiency on all of your projects.
Daily timesheet template
Eliminate laborious processes
It's so easy to miss certain details when it comes to managing staff, especially in larger organizations with high numbers of employees. It's impossible to be in a hundred places at the same time, but with all the relevant information - overtime, proof of hours worked and accountability - pooled into one place, it certainly makes it easier.

By maintaining a daily timesheet template you practically eliminate the tendency for error, which can be a common occurrence on manual systems -a majorly outdated method in the digital age we live and work in. The system also allows you to get a better grasp on payroll, an aspect of business which needs to be carried out timeously and with optimal precision. Employees feel appreciated and of value when they are being paid accurately for their time and efforts. Similarly the daily timesheet template helps you monitor absentees and identify employees which might be under-performing.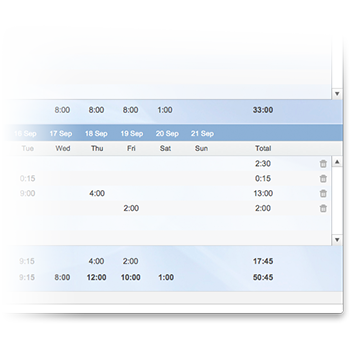 Daily timesheet template
Azor's daily timesheet template keeps you ahead of the curve in respect to company strategy and planning. By being able to set the hours which have been practically applied against those which were initially estimated, you can tweak and fine tune the roll-out of future projects, ensuring improved turnaround times and functionality for your customers.

Azor's daily timesheet template is a user-friendly tool that makes the entire project management process quick and effortless. With a few convenient clicks you are able to see how much time has been spent on a project, how this equates to the final outcome and what this means for you and your customers. In addition, Azor's aptitude for seamless organisation makes managing the system a piece of cake. For example, the daily timesheet template software has been cleverly partitioned into two sections: one for the hours worked on projects, and one for all the other tasks you want to keep track of. It's clear, simple and structured.

Want to test drive this system and experience the advantages for yourself before you make a purchase? Feel free to try the Azor daily timesheet template demo, which you can download here at no cost.