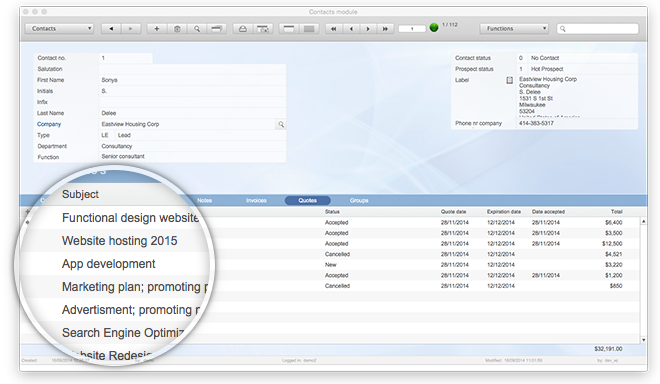 CRM database
Organize & automate customer-related data
Customer relationship management (CRM) has never been easier than with the help of CRM database software like Azor. Manage your company's relationships with present customers and potential customers with comprehensive features and capabilities.

Synchronize marketing, sales, technical support and customer service with the help of technology to speed up the process. Always have important information within reach, and improve your efficiency and service.
CRM database
What is a CRM database?
Azor is based on FileMaker's user-friendly and sophisticated relational database structure, and you can use it to improve customer loyalty and retention, enjoy better targeting with increase in ROI and improve your success in up-selling and cross-selling. A CRM database typically offers a searchable database where you store your customer information. Consolidate all your customer information and related documents into a single CRM database so that all the information is accessible by all users and can be easily managed. With a CRM software, you can enter leads into the database and continue to add notes throughout the sales or project cycle. The key to good CRM is being able to store and recover customer information, which CRM databases like Azor allows you to do. The more you know about your customers or clients, the better will be the customer service you provide and you will be able to manage your customer relationships more effectively.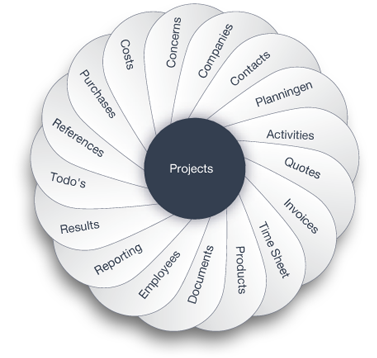 Advantages of using a CRM database software
A good CRM database software will let you manage tasks and notes for each client, filter data easily to generate reports, set reminders for meetings or phone calls with customers, generate report documents that can be easily printed or shared, among other things. You can then use the data to compile reports, analyze them, and tailor your CRM strategy to your customers for better relationship management. Your sales team can also use your CRM database software to send out emails to specific customers, such as rewards coupons, thank you cards, birthday greetings etc. CRM software is often considered by sales teams and CRM managers as the be all and end all of customer relationship management. The software can help salespersons to keep in touch with customers, offer timely technical support and customer service, and thereby strengthen the company's relationships with customers. Azor makes all your customer-related information accessible and easy to understand through crm database. Assess your leads and prospects, manage contacts across branches, sales channels or sectors, enjoy advanced selection capabilities for direct marketing campaign and generate customer reports according to your needs, among other things.