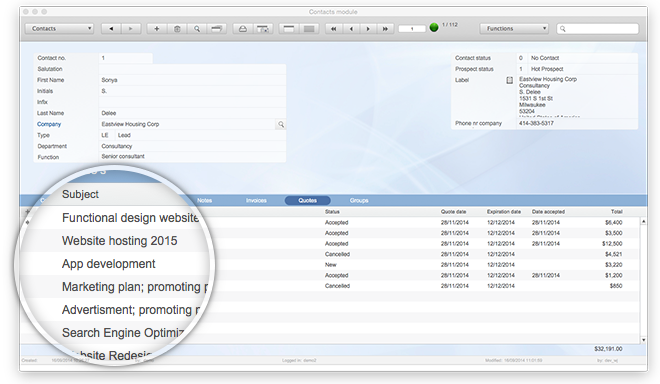 FileMaker CRM Solutions
About FileMaker CRM
Reliable CRM (customer relationship management) solutions based on FileMaker are your best options for managing your interactions with past customers and present clients. With the help of modern technology you can automate, organize and synchronize customer service, sales, marketing and technical support. You can offer the best customer-oriented service with a reputed CRM system, take advantage of direct online communications with clients, provide solutions to customers who face issues with your products or services, and develop as well as maintain healthy client relationships.
FileMaker CRM Solutions
Advantages of FileMaker CRM Solutions
FileMaker CRM solutions in particular are the choice of businesses today that want to keep ahead of competition with the best CRM systems. FileMaker is an award winning personal database and business software that can be used for Mac, Windows, iOS platforms as well as the web. The developer of the relational database software was originally an Apple Inc. subsidiary. A relational database is simply a database model based on 2-D tables. These two dimensional tables reduce data redundancy, allowing you to store data in columns and fields, and lets you establish links between separate files. In other words, you can query two files at the same time in 2-D tables.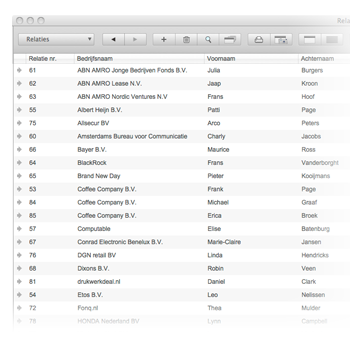 Advantages of FileMaker CRM Solutions
With the help of FileMaker CRM systems, you can easily collect data and understand all client information, and assess prospects and leads across the branches of your business, across sales channels or sectors with ease. You can also schedule sales processes easily on the intuitive FileMaker CRM Solutions system. Some of the additional functions of FileMaker-based CRM include the capability to: Generate precise reports based on your needs Send quotations, invoices and cost reports to clients Obtain summaries of client contact information Directly generate sales forecasts Send out digital mails and paper mails easily Upgrade direct marketing campaigns by making advanced selections from your client database FileMaker CRM solutions can give you immediate and accurate insight into how customer relations are managed at your business. Get immediate overviews into your customer database, plan marketing campaigns from the data, and offer the best possible customer service that you can provide, all the while saving time through automated processes.